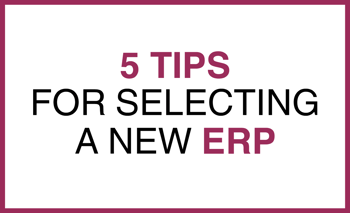 Choosing a new ERP system for your company can be an overwhelming experience. Whether you're replacing an existing system or starting from scratch, this new tool will touch just about every aspect of your organization and it's a big responsibility to make the right decision. To help make the process go a little more smoothly, and to make sure you don't overlook any crucial details, we suggest following these five tips.
Have the Right Team in Place
If selected carefully and implemented properly, an ERP system will be leveraged by your company for years to come. That fact is important to keep in mind when organizing a team to both make the software selection.
As Compare Business Products suggests, the selection team should include more than just a few IT people. It should include an executive sponsor, a full-time ERP implementation project manager, and team members from a range of departments. By getting input from across the board, you're more likely to have your staff's support moving forward.
Fully Vet the Vendor
While a software vendor will typically offer a demonstration, the basic presentation isn't enough information on which to make an ERP decision. When our team helps with a software selection project, we create a scoring matrix for evaluations and use the client's data in the demonstration.
Additional considerations when vetting your software vendor:
Did they provide references? You should ask for a minimum of three references, ideally with at least one in your industry.
Does the vendor have a defined support plan? Your ERP needs won't end once the software is live. You will need support after the launch.
Fully Document your Business Procedures
Whether you're implementing an ERP for the first time or switching your ERP platform, there's no question that your business processes will see some major changes. That's why an ERP project is a perfect time to run a Business Process Review (BPR).
At its core, a BPR allows you to identify all of the software components that are currently in play in your organization, how they interact with each other, and what purpose they serve. It maps out the "as-is" version of your business so that you can determine the "to-be" version on the new platform. This process provides everyone in your organization with comprehensive documentation of your business processes.
Provide Employees with Adequate Training
One of the main reasons you select whichever ERP you decide on will come down to its features. Can you leverage it in all of the ways your organization needs? If the software has the capability but your team doesn't know how it works, then your ERP isn't going to work how you need it to.
It's important to invest resources into ongoing, comprehensive training for your staff, not only so they can familiarize themselves with the new ERP before it goes live, but so that they can continue to use it to its full potential down the line.
Include Non-IT Employees in the Implementation Process
One of the reasons that having the right team in place is the first tip we chose is because the success or failure of an ERP project is often determined by the staff's reaction to the new platform. One sign of a fatal ERP implementation project is if team members are resistant to the new system, avoid using it, or don't trust the information coming out of it.
That's why we encourage our clients to include team members from every relevant department in a BPR (and to make attendance mandatory!). For some companies, it's helpful to establish a few enthusiastic and capable "super-users" who will understand the entire system backwards and forward, and who can then provide assistance to other users during training.
Read more about these five tips and discover ten more in Compare Business Products' 15 ERP Selection and Implementation Mistakes and How to Avoid Them.
Are you ready to move forward with your ERP selection? Contact our team.