We've been experiencing some big changes around the Briteskies offices lately! With new customers, projects, and challenges developing over the past few months, we've needed to expand our team. Please join us in welcoming the newest members of Briteskies: Nick, Jeff, and Brad.
Nick Hudson, Magento Developer
Nick joined the Briteskies team after hearing about the position from fellow Magento Developer Sam. They had previously worked together and when the opportunity arose, Sam knew Nick would be a great candidate for our Magento team.
Originally from Cleveland Heights, Nick's interest in the tech industry started as a kid when he wanted to become a game designer. Since then, Nick earned his Bachelor of Science in Computer Science from Edinboro University and has spent his career solving client problems.
"I love debugging things. Anytime there's an unexpected problem, I like to solve it. Of course you want to see things go smoothly, but it gets boring if it's too smooth," Nick said of the tech industry.
While solving problems was Nick's main draw to the tech industry, he likes to see new clients take their sites live and helping his team progress. He also likes being forced to keep up with the new developments of the industry and likes the ever-changing aspect of it.
Outside of the office, Nick spends time with his wife of almost five years and their corgi, who you can follow on Instagram here. He enjoys playing guitar, reading books of the fantasy genre, and playing video games. He confesses that he is a recovering World of Warcraft addict.
Jeff Judy, Senior Developer (JDE Team)
U.S. Marine Corps veteran Jeff Judy has joined our JD Edwards team as a Senior Developer. Born in raised in nearby Canton, Ohio, Jeff has traveled the world with the USMC. After spending ten years stationed in places including Hawaii, Okinawa and mainland Japan, Thailand, Philippines, Mexico, and Dominican Republic, and serving in Saudi Arabia during the first Gulf War, Jeff entered the tech industry.
Jeff was first introduced to the tech industry in high school, where he took computer programming classes and discovered his aptitude for programming. After his years serving in the USMC, Jeff worked in a host of different IT positions.
"I like how the technical aspects are always evolving," Jeff said of the tech industry. "I look forward to the opportunity to go into a situation and provide solutions that please the customer."
Outside of work, Jeff enjoys golfing, although he admits that he isn't very good, watching military documentaries, and reading non-fiction books regarding current events in the US. Jeff also enjoys spending time with his wife, daughter, and two cats, Tink and Tank.
Brad Sweet, Junior Developer (Integration Team)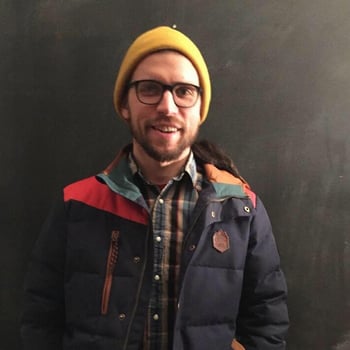 Brad joins the Briteskies team after nearly ten years in the bike business. Local cyclists might recognize him from his years at Century Cycles in Rocky River, where he was a service manager. The mechanical work and problem solving of bike repairs complemented Brad's interest in the tech industry, which he describes as "just more elaborate puzzles and problem solving challenges, without the greasy hands and cancerous fluids."
Originally from Lorain, Brad is a graduate of the We Can Code IT coding boot camp. We Can Code IT is a social technology education organization that offers coding boot camps to help anyone seeking a career in the tech industry get the training they need. With full-time and part-time boot camp offerings, students are fully certified and ready to enter the workforce in either 12 or 25 weeks.
"It was the learning style I always dreamed of," Brad said of the boot camp. "Intense and quick. You have to get caught up on the last 30 years of technology in a short amount of time."
Despite the crash course, Brad still feels that he has a lot to learn and is excited to dive in with this new position.
"If We Can Code IT showed me anything, it was a broad banquet table of things you can get into [in the tech industry]. I'm looking forward to getting more in depth."
Brad's problem-solving nature extends to his hobbies as well. Music is one of his main interests outside of work, and he enjoys joining new bands and figuring out what he can bring to their sound. He currently plays guitar in two bands and is still working on "dismantling the programming of growing up on 98.5."
Welcome to all three of our new team members! We're looking forward to seeing what you bring to the team.
If you're interested in joining the Briteskies team, contact us.