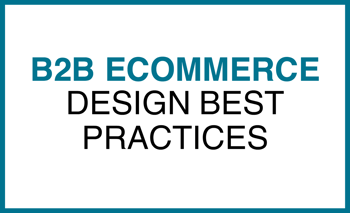 As eCommerce becomes a driving force in the B2B realm, it can be confusing to determine what works best for your company's B2B eCommerce site. While applying B2C best practices is a good place to start, B2B E-Commerce World takes a look at some of the effective B2B eCommerce practices of real-life companies in this executive report.
When designing a B2B eCommerce site, it's most important to keep your customers front of mind. Business customers have spent years shopping on Amazon and other retail sites, and they expect a website that is rich in product images, features, and functionality that make it easier and faster to do their job as purchasers. Upgrading your site's design while keeping your customers in mind can address multiple goals of your B2B company.
Provide a Streamlined User Experience
Although B2B buyers are used to the B2C shopping experience, the B2B realm is inherently different than B2C. It is often much more involved, and can be incredibly stressful. Purchasers are typically dealing with a much higher budget than they encounter in their personal eCommerce shopping. Additionally, if they make a mistake during the order, it affects more than just the purchaser. Ordering the wrong item or other mistakes can impact company production schedules, put the purchaser's job at risk, or even affect the safety of coworkers.
The easiest way to avoid such mistakes is to streamline the user experience and site design. In B2B E-Commerce World's report they highlight the American Academy of Pediatrics, who changed the design of their website so that most users can find and purchase the item they are searching for in as little as three clicks, as opposed to the 17 clicks it was taking the average customer before the redesign. Not only does a change like that make it easier for your customers to make the right purchase, it lowers the probability of abandoned carts and lost business.
Address Customer Pain Points
As we've said before, designers and design are meant to be the solution to a problem. In order for design to be effective, however, you need to know what the problem is. The best way to tap into this is to find your customer's pain points.
While we have highlighted how a streamlined user experience can help those customers who you hear from after they accidentally ordered the wrong thing, what are some other issues your customers run into?
For example, do your customers often contact you in order to check on their order status? Be sure to include a customer portal that is designed to help purchasers help themselves.
Ask yourself how your customers search your site. Do they use model or item numbers? Do they use industry slang or informal language? Provide adequate search functionalities to avoid potential frustration for customers who cannot find the item they're looking for.
Another thing to consider is if your customers need more detailed item photos and descriptions. In the B2B E-Commerce World report, they highlight Cummins, Inc., a company that designs and builds engines. When they rebuilt their site, they paid special attention to design details that give their customers more of the information they are looking for, including a high-resolution image of a complete engine that allows customers to highlight certain aspects of the product. Using this information, their customers can answer many of their questions themselves. As a result, Cummins, Inc.'s site saw a 25% increase in page views and a 15% lower bounce rate.
It should go without saying, but as a reminder, any and all design aspects should span all platforms, including mobile. This gives customers access to your site wherever they are and guarantees that the information they see is uniform across all platforms.
For even more examples of how real-life B2B companies are implementing eCommerce design best practices, check out the full B2B web design report from B2B E-Commerce World.
Ready to implement some of these best practices to your B2B eCommerce site? Contact our team.