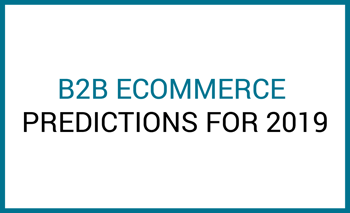 B2B eCommerce is no passing fad, and the demands of the B2B market will continue to change and grow as more people get on board. In this article, Brian Beck highlights a few of his predictions for B2B eCommerce in 2019. We're sharing a few that we agree with and some tips on how to make sure that you're keeping up with the rest of the B2B eCommerce industry.
B2B eCommerce Predictions
Brian starts off the article by deeming 2019 The Year of the B2B Buyer.
"I believe that 2019 will be The Year of the B2B Buyer - when business buyers seize full control of their eCommerce rights, demand their suppliers meet their expectations for a seamless eCommerce experience, and more sellers wake up to accommodate these needs."
Most of what Brian talks about with this prediction is the overall B2B buying experience, something we've emphasized for years. In fact, Brian predicts the demand for an improved buyer experience will only go up in 2019.
"And the bar continues to rise for delivering a seamless online user experience. Mid-market and large enterprises have learned the value of "stealing smartly" from B2C best practices, and will continue to upgrade their web experiences to meet this new expectation of business buyers… Excellence in site search, navigation, fast checkout, and visual shopping features are no longer optional in B2B. They are table stakes. Companies that recognize the importance of web usability fundamentals will continue to win in 2019."
So, how can you make sure that you're keeping up with the changes in B2B eCommerce? We have a few tips for creating an optimal shopping experience for your customers.
Improve B2B Customer Experience
If Brian's predictions emphasize anything, it's that customers are demanding a B2C-like shopping experience in the B2B market. These customers expect the same quality experience across the board, no matter if they are at their desk from 9 to 5, or on the couch at home after work. There are some features you can implement to achieve that experience, going beyond just a modern look and feel.
Intuitive Navigation and Search
One of the best ways to give your B2B customer a B2C-like experience is through search and navigation. Take inspiration from the B2C space and figure out where your customer is trying to go. Restructure your navigation and search functions to ensure that your customer can find what they're looking for in as few clicks as possible.
Searchers are your most valuable site visitors, so be sure to treat them well. Provide relevant results as well as recommendations to help simplify the purchase process. Keeping things customer-centric as opposed to product-centric will boost the user experience of your B2B site.
Product Recommendations
Regardless of the industry, customers like to feel as though their shopping experience is somehow personalized to them specifically. One great way to personalize the shopping experience is through product recommendations.
Using info gathered through search results and purchase history, provide shoppers with suggested items that might correspond with other products they are browsing. One way to implement this is through the Rule-Based Product Relations marketing tool in Magento Enterprise. This tool also helps promote cross- and up-sell opportunities, helping to boost the average order value of your eCommerce site.
Content and Product Information
While some aspects of B2B eCommerce may be more complex than those of B2C, it's still important to help your customers help themselves as often as possible. One simple way to provide a self-service feature to your customers is through quality content and product information.
Catalog info can be difficult to manage, but quality content makes all the difference in a shopping experience. Outfit your site with detailed product images and helpful item descriptions to answer your customer's questions before they even have a chance to ask them. Another tip is to provide a product comparison feature so that customers can compare items side by side to determine which is the better fit for their needs.
Streamline Ordering and Customer Service Processes through Integration
Customer experience goes beyond just the look and feel of your eCommerce site. Having a streamlined back office system will improve the buying journey from first search to final delivery. Allowing a B2B customer to be self-sufficient in the ordering process lets them take control of their shopping experience. The best way to do that is to integrate your eCommerce site with your ERP.
10 Points of Integration for ERPs
Our standard integration strategy looks at ten different integration points and related business logic and processes. The goals of each project determine which integration point is needed, and how it is used within the overall project. Typically, our project use four to six integration points, but we have had projects with only one or two, and projects using all ten. 
These points of integration are:
Catalog
Customer
Inventory balance
Price
Tax
Shipping
Payment processing
Order processing
Order shipment order update
Order history
Identifying how those data points will be communicated between the ERP and eCommerce systems will define your integration strategy.
A good example of an integration point is inventory availability. The first business decision to be made is whether or not the eCommerce site should expose inventory availability to the shoppers and if so, in how much detail. Not every eCommerce site does, and those that do use a few different methods for sharing this information. Some sites show the actual number of products available, while others share a red, yellow, or green status to indicate availability. Another option is to simply provide 'In Stock' or 'Out of Stock' identification on the site. These business decisions drive the type of integration required, and how timely the update needs to be.
Using integration points like these, you can set up your site to answer common customer questions and give them a more B2C-like shopping experience.
Of course, Brian has other predictions for B2B in 2019 as well, and if you've already mastered your customer experience you may be ready to tackle those other suggestions. You can find his full list of B2B eCommerce in 2019 predictions here.
Do you have a B2B eCommerce project that could use the help of an experienced partner? Get ahold of our Magento team.