One of the many benefits of being a Magento Silver Solution Partner is the ability to draw on Magento's vast resources to host local eCommerce events. These events are geared toward providing local merchants with an opportunity to learn more about how to stand up a successful eCommerce site and provide a relaxed, casual environment in which to ask questions. These forums bring together experts from Magento and introduce online retailers to other third party industry partners, who work closely with Magento and can directly address any number of issues faced by online merchants. At our most recent eCommerce Forum, held at Cleveland's own Market Garden, online retailers were able to learn from Magento, SLI Systems and Avalara, as well as the Briteskies team. Due to the extreme weather the previous evening, hosting partner PEER1 was unfortunately unable to make the event.
This forum explored the new world of B2B 2.0 and the focus of the evening was how to use Magento and accredited partners to drive sales and improve the shopping experience in the B2B space. The internet is filled with articles and blogs reviewing the changing face of B2B, including this Multichannel Merchant article that features some of Bill's insights. Gian Genovesi, Briteskies' Magento Delivery Lead, reminded participants, "when creating a B2B site, it is critical to remember that the person shopping B2B during the workday is the same person shopping B2C sites in the evening; why should the experiences be different?" The representatives from the Briteskies team, Gian Genovesi and Bill Onion, focused on leveraging B2B as a virtual sales tool. The goal of B2B 2.0 is to increase operational efficiency, provide buyer-centric marketing and deliver a rich customer experience. They demonstrated these aspects by showcasing some of our success stories. The examples presented highlighted the power of partnering with a team of certified developers who can take eCommerce sites, B2B and B2C alike, to the next level.
The Magento Platform
Attendees were able to hear first-hand from Brian Lavorini at Magento, who discussed the power of Magento and the impact for online retailers now that the platform falls under the umbrella of eBay Enterprises. Brian shared that, according to the most recent Internet Retailer 500 list, the number of sites running Magento doubled from 2012 to 2013. As Magento has grown it has continued to add features eCommerce merchants are looking for in order to boost sales, such as segmentation, assistant shopping and loyalty programs. The number of extensions and third party plug-ins has grown as well, providing merchants with a variety of options. As Brian shared, "this means it's not just front-end anymore." Figuring out which Magento platform to use, as well as which extensions are appropriate is critical to the success of your site. With so many options available, companies looking to expand their site can learn a lot by attending these forums and hearing directly from the experts. Utilizing the talents of expert, certified developers are also a key component to successful site design or redesign for a B2C or B2B organization.
Information from PEER1
A key aspect of a successful eCommerce site is a reputable hosting partner. PEER1 hosting, a leading hosting provider worldwide, provides the infrastructure needed to build a site that enables success and scalability for the Magento store you have imagined. Without the appropriate host, your site can experience slow response time, increased load time, or unexpected downtime, any of which can deter your customer from making a purchase. Peer1 offers managed hosting, cloud storage, dedicated servers, and colocation, all of which is supported by their signature Fast Fiber Network™, ensuring that your customer can reach your product when they need it.
Search Term Management with SLI Systems
As noted in this article, search term management is one of the more commonly underutilized features of Magento platforms. If no one can find you or your products, then any time, energy and money spent on setting up an eCommerce site has been a waste. This is where working with a third party partner like SLI Systems is beneficial. Jeff Neish from SLI Systems spent time discussing the power of a properly executed search system on eCommerce sites. "Magento has a robust partner community that has high expectations," Jeff said in his presentation. SLI, which stands for "Search, Learn and Improve," works to meet those expectations by truly understanding the language a shopper is using to find their item. By utilizing their Site Champion SEO and rich auto complete, among other things, the item the customer is searching for is found on the first page 95% of the time. This is a crucial statistic because if shoppers cannot find you or your product, you will not be able to drive traffic or, ultimately, convert sales.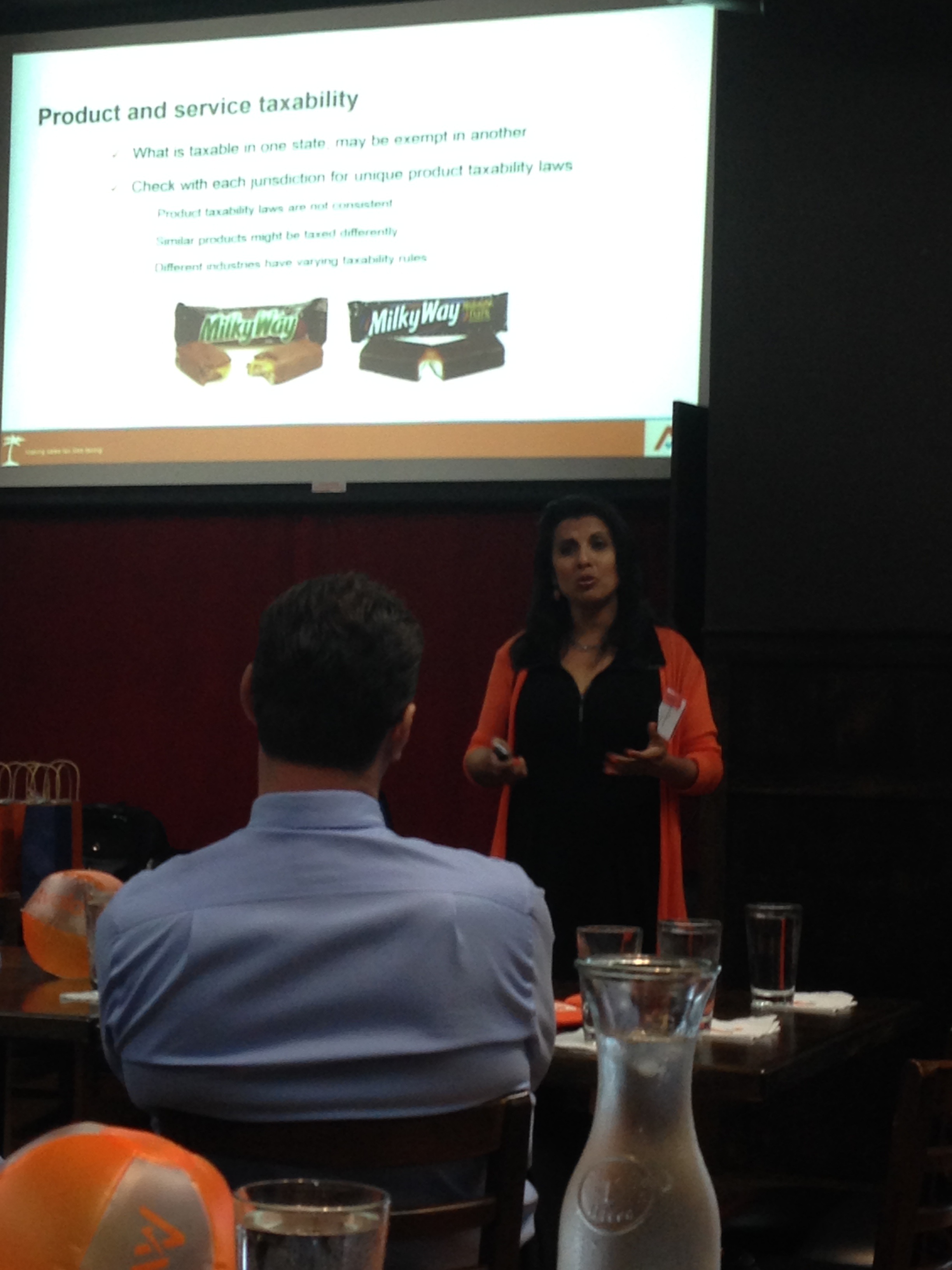 Talking Sales Tax with Avalara
So, you have successfully designed your site and selcted proper hosting, your customers can find you and your products easily, and you are converting sales. Now comes the tricky part: making sure you comply with the taxman. Luckily, there is a Magento partner who can help "makes sales tax less taxing." Buk Kapadia-Jackson with Avalara, a Magento Gold Partner, addressed the complexity of sales tax regulations and how using a Magento certified partner can be beneficial. There are over 12,000 sales tax jurisdictions, each with specific regulations that are constantly changing. Making a mistake in the sales tax arena can lead to a number of liabilities, not the least of which is a failed audit. Online retailers can protect themselves by leveraging an expert like Avalara.
Thanks to everyone who attended, we hope you learned something new! For those who were unable to make it but would like to know more about our B2B or B2C eCommerce solutions, contact us.