When you spend as much time on the internet for work as we do, you come across some crazy stuff. We're sharing our favorite videos, stories, pictures, and more from the past week every Friday. Consider it our gift to you for making it through the week. Feel free to share your own favorite internet find in the comments.
Disclaimer: all opinions reflect the individual who submits them and not Briteskies as a whole or the author of this post.
Dave Balser, JD Edwards Delivery Director:
Béla Fleck and Abigail Washburn cover "The Final Countdown"
Virtuosos Bela Fleck and Abigail Washburn make big hair 80's rock work beautifully on the banjos.
John Kormanec, Solutions Architect:

How important are honeybees to the human diet? According to the U.S. Department of Agriculture, honeybees pollinate 80 percent of our flowering crops, which constitute one-third of everything we eat. Unfortunately, honeybee populations have been declining at an alarming rate for the past 10-15 years. Losing them could have a devastating impact on fruit, vegetable, and nut crops as well as certain feed crops for beef and dairy cattle. Check out the following link to learn more about the causes of the honeybee decline and what you can do to help: Save Our Bees


Greg Crane, Magento Developer:
Kung Fury - The Craziest King Fu Movie Ever Made Is Online To Watch Now

The crowdfunded Kung Fury was just released and available on line. As the name suggests, it's a kung fu movie:
"The movie is described as an "over-the-top action comedy that has its foundation in '80s cop movies." The story features everything you want in a great movie! Arcade-robots, dinosaurs, nazis, vikings, norse gods, mutants, and a super kung fu-cop."
Also David Hasselhoff made the theme song for it and the music video is hilariously awesome and is a must watch.


Mike Iaconis, Senior JD Edwards Consultant:
'Don't believe the hype': Brunswick students lock arms with officers to spread positive message.
With all of the negative attention the police are getting across the country, I am glad some young members of my community still believe in law enforcement.


Matt Trimmer, Business Analyst:

FIFA |
Women's National Teams are IN THE GAME
FIFA is always a good game, and this is cool, especially after all the support the US womens team got in the last World Cup. This can only help with this summer's games.

Navarr Barnier, Magento Developer:
Google confirms it's adding a 'Buy' button to search
Google has confirmed that it's adding a "Buy" button on mobile for products listed through their Google Merchant Center. This will reduce a lot of friction in buying products after searching for them!

Bill Onion, Managing Director:
Snow piles linger in Boston, including one that's 3 stories high and filled with trash
I know that our winter was longer and colder than usual, but I thought it was over!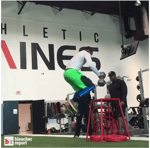 Gian Genovesi, Magento Delivery Lead:
Watch: Shawn Oakman's ridiculous box jump
Many moons ago, I thought I was athletic because I had a 30-something-inch vertical. This guy is 6'9", 275 pounds, and does a 40-inch box jump while holding 70-pound dumbbells.

Michelle Kowalski, UI/UX Designer:
The 9 Most Overlooked Road Trips in the United States
I love to travel and plan a lot of international trips, but I tend to forget about the great road trip opportunities in the ol' US of A. Oregon Trail, anyone?


Mitchel Kocian, Marketing Intern:
Mount Shindake: the moment Japan's volcano erupts in spectacular fashion
The video of the eruption is absolutely spectacular. Take a look if you like nature and big explosions.


Hannah Gierosky, Content Writer:
Twisted Measure A Cappella Sings 'Chandelier'
I'm a sucker for a cappella covers of popular songs
(is my basicness showing?)
, and this arrangement by a group from Elon does not disappoint. Even better, they have two albums on Spotify!

Adam Boe, Magento Intern:

We finally know who Andy Serkis is playing in Star Wars: The Force Awakens
Ever since I saw the behind-the-scenes footage of him acting as Gollum for The Lord of the Rings, I've been a huge fan of Andy Serkis and enjoyed watching him create the foundation of motion capture performance. I'm excited to see what he does in the The Force Awakens.

Katie Conaway, Business Analyst:
This site provides a way to find out your family crest and order products for personal use or unique gifts.
Fun Fact: When Navarr was in high school, he became an affiliate with House of Names and created a Facebook app that would show your family crest on your Facebook page.