With just a few days to go before Magento Imagine kicks off, our team is getting excited to get to Las Vegas and soak up everything the conference has to offer, including some time at the Hash House a Go Go and, perhaps, even some new Magento features that could be in the works.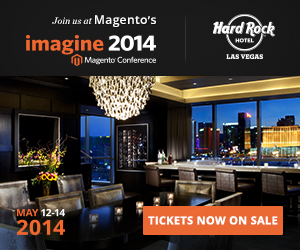 In case you missed our Guide to Surviving Magento Imagine 2014, the keynote speakers are a must-see part of the conference. Here are a few we are looking forward to:
Roy Rubin, Co-Founder and COO of Magento
As the Co-Founder and outgoing COO of the organization sponsoring Imagine, Roy Rubin has been a huge influence on the growth of Magento. His contributions have made Magento the number one platform choice among fast-growing merchants.
Malcolm Gladwell, Best Selling Author
Malcolm Gladwell has written such best sellers as The Tipping Point, Blink and Outliers. His newest book, David and Goliath, discusses the power of advantages and disadvantages, as well as our understanding of the two.
Carey Lohrenz, F-14 Tomcat Fighter Pilot for the U.S. Navy
As the first female F-14 Tomcat Fighter Pilot in the U.S. Navy, Carey Lohrenz's experiences in dynamic and precarious situations has inspired her to share her thoughts on High Performing Teams and developing a Culture of Learning; concepts that are applicable to any work environment.
Jamie Clarke, Extreme Adventurer and Storyteller
Jamie Clarke is an adventurer who has climbed the Seven Summits, as well as Mount Everest twice. He is also the co-founder of LiveOutThere.com, the fastest-growing Canadian online active lifestyle retailer.
Tom Szaky, Co-Founder and CEO of TerraCycle, Inc.
TerraCycle allows consumers to collect waste that is traditionally viewed as non-recyclable, but can be reused, upcycled or recycled into consumer products and materials. Currently at work in over 21 countries, TerraCycle has also donated over $5 million to charities.
The many interesting breakout sessions are grouped into tracks, with each track named after popular rock artists and bands, a nod to the location of this year's event. Some sessions to check out include Taming the Commerce Dragon: Expanding into China, part of the Hendrix track, or Tag, You're It! - The Paradox of Choice in Tag Management, on the Radiohead track.
Don't forget about the myriad other events on the agenda, including, for the first time, the Designer's BarCamp presenting Design and UX sessions. These sessions are open to any and all designers and creative enthusiasts.
If you are heading to the conference and are in need of a B2B or B2C eCommerce solution, feel free to drop by and see us at booth 15, or set up a time to meet.
Our B2B vs B2C Mobile Study, where we compared the mobile-preparedness of the companies attending Imagine, will publish Monday. Be sure to check back to see how your company stacked up to the rest!