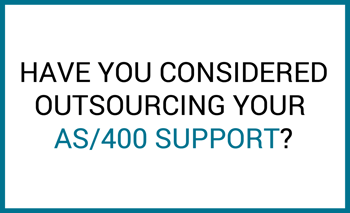 Your AS/400 software applications have been driving your business for decades. You have a small, dedicated staff to maintain those applications, but what happens when one of them leaves? Maybe they retire. Maybe they get a new job. Either way, your staff can't keep up.
With the investments you've made in solid RPG applications built on the legendary AS/400 family of servers, you deserve to have the right resources to maintain your system. But finding a qualified, experienced RPG developer on short notice can be next to impossible.
The thought of outsourcing might make you cringe, but have you considered the benefits of bringing on some outside help instead of hiring someone full time? The financial perks alone should have you reconsidering.
According to Deltek, the cost of a full-time employee breaks down as follows:
Benefits (healthcare, retirement, PTO, worker's comp) 35%
Overhead (office space, computer, telephone, hosting) 25%
General/admin (execs, admin, legal, accounting) 18%
Each employee costs roughly twice their base salary (1.99x)*
*Can vary across different companies)
By outsourcing your AS/400 support, you avoid many of the areas that add costs to your support staff. Aside from the cost savings, here are a few more reasons to consider outsourcing some of your IBM i work to a credible team.
Potential Financial Risks
There are additional potential financial risks with an employee that are less likely in the case of a consultant. A prime example is the fact that companies tend to make hire/fire decisions much more rapidly with consultants than with employees. It is not uncommon for under-performing employees to be kept on the payroll for multiple months, throughout various stages of probation, to minimize the potential for an employee-filed lawsuit. The resulting cost to the company can be quite substantial. In contrast, companies tend to dismiss consultants with minimal if any notice when in any way dissatisfied with their performance.
Recruiting Fees
Recruiting fees affect the cost of all employees. One obvious savings with consultants is the avoidance of often hefty recruiting fees. What may be less obvious, though, is that each recruiting fee paid drives up the real cost of all employees. Since recruiting costs are including in overhead expenses, every recruiting expense that your company incurs increases your overhead costs, which in turn raises your overhead rate multiplier, which in turns drives up the effective cost of each and every one of your employees (i.e., since the overhead multiplier is used in calculating every employee's real cost, the higher that multiplier is, the higher each employee's real cost ends up being).
Briteskies IBM i Staffing
We know IT recruitment, especially for IBM i, can be tough. But don't worry, we've got you covered. Briteskies has the team you need to help leverage your valuable business logic and data, regardless of the age of the technology.
Ready When You Need Us
Let us run your AS/400 or manage your AS/400 talent.
Our team is made up of true IBM i experts. They're qualified, vetted, and each of them has over ten years of IBM i experience. Most importantly, we aren't a one-size-fits-all operation. We develop the right solution for your needs. Whether you just need a body in a chair or you're looking to completely modernize your system, we have the resources and experience needed to get the job done.
Don't just take our word for it. Here's what one of our IBM i support clients has to say:
"As a client that has used Briteskies for many years on a variety of IBM i related projects, we are excited to work with them on a consistent basis through our outsourced development agreement. Having dedicated resources available to us on a managed hours basis allows us flexibility in how those hours are used, giving us greater support in our shifting areas of need."

Marc Masters, IT Director, Wheeling and Lake Erie Railway Company
Experienced Developers Saving You Time and Money
Our team can hit the ground running. Unlike a new hire, our IBM i specialists don't require excessive training. We handle the training, maintenance, vacation time, and benefits, so that all you have to worry about is achieving your company goals. We'll even throw in some snacks for good measure.
With years of staffing experience, our team members are great at adapting to your company culture and not rocking the boat. We're there to get the job done and make you look good.
A Team of Resources
The reason our team is the best choice for outsourcing your IBM i needs? We're a development team, not a staffing company. We stand behind you with a full team of resources, not just a single employee. Instead of hiring a new developer just because their resume says they have AS/400 experience, employ the help of a team of experienced professionals to get the job done right.
So, are you ready to add some expertise to your AS/400 staff? Contact our team to start planning your custom IBM i support staff solution.