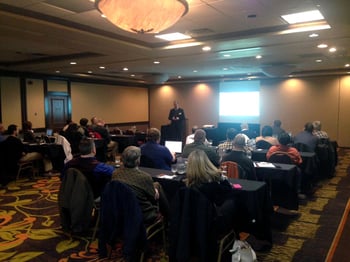 Our JD Edwards User Group Event took place last week, and experts from both Briteskies and Oracle JD Edwards shared what to expect for the future of JD Edwards. If you were not able to make it to the event, this recap should give you an idea of what was discussed. While it's certainly not the same as being there, read on to see what topics were covered.
Mike Stahl, Oracle Sales Consulting Manager
Mike Stahl kicked off the event by going into the JD Edwards World and EnterpriseOne roadmaps.
Some highlights from the roadmap discussion were that major releases will occur every three years, with smaller releases for tools and applications happening every year. This schedule will make it easier for JDE users to stay current and simplifies the upgrade process. Smaller, more frequent upgrades make the process easier because only those things being upgraded will require testing, as opposed to the entire system.
One interesting tool that Mike demonstrated was a new comparison feature on LearnJDE.com. This tool lets you compare the version you are currently running with what your organization is upgrading to along with apps you are running. It then generates a list of what will change in that upgrade.
Greg Smith, Oracle Distinguished Sales Consultant
We learned a lot from Greg Smith as he demoed some new EnterpriseOne functionalities for us.
Internet of Things Orchestrator
Internet of Things is utilized for aspects like asset management, equipment maintenance, shop floor monitoring, quality information, and more. As Greg said, IoT is all about automating those things that companies have previously done in a manual, labor-intensive, error-prone process in the past.
The Internet of Things Orchestrator allows business users to collect and filter raw data collected from sensors or devices in the field or on equipment and feed that data into EnterpriseOne. Using Orchestrator, users can then set up commands and create algorithms using the collected data to automate transactions between applications and EnterpriseOne.
Check out the video below for a demonstration of Orchestrator, and stay tuned for a future blog going into more detail about IoT Orchestrator.
EnterpriseOne Page Composer
The new Page Composer for EnterpriseOne is a way for the end user to create his or her own pages on their E1 instance. Available on the 9.2 tools release, this tool gives users the ability to build a page without writing a single line of code. As Greg demonstrated live for us, pages are designed and published from within a browser, giving users control over design and making configurations much easier.
Dave Balser, Briteskies JD Edwards Delivery Director
Dave's presentation focused on sharing knowledge learned at the annual JD Edwards Partner Summit, including One View Financial Statements and the IASB/FASB Revenue Recognition process, as well as an overview of World upgrade options.
One View Financial Statements
EnterpriseOne One View Financial Statements will seem familiar to World users, as One View is essentially EnterpriseOne's answer to World's FASTRs. With JD Edwards making a push to move more operations away from developers in favor of Business Analysts and system users, One View allows users to build their own financial statements. Without the need for IT involvement, financial users can now create their own reports.
IASB/FASB Revenue Recognition
The International Accounting Standards Board (IASB) and Financial Accounting Standards Board (FASB) have set up new accounting rules that will take effect in 2018. These standards will require revenue to be recognized when the performance obligations are complete, as opposed to when the invoice is sent. To accommodate those new standards, JD Edwards can now be configured to recorded the performance obligation liability at the time of invoicing, therefore recording the recognition of revenue upon completion of the performance obligation.
World Upgrade Options
One topic that was not discussed much at this year's Summit was JD Edwards World. We here at Briteskies love working with JDE World, and Dave highlighted some upgrade options for those running older versions. Whether that means upgrading to the latest version of World or migrating to EnterpriseOne, Dave went over the pros and cons of the available options. To learn more about what Dave shared concerning World upgrade options, take a look at our eBook below.
Thanks to all who came out to learn more about JD Edwards, and special thanks to our presenters!
If you are interested in attending future events like these, be sure to check our events page, or contact us to get email updates.