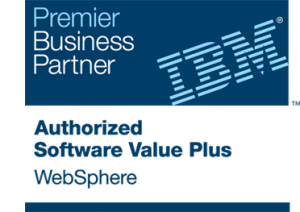 When choosing a business partner to assist your organization with any project, there are many considerations that come into effect: timeline, budget and the cohesion of the teams, to name a few. Another crucial aspect to consider is the competency of the team. A team's ability to demonstrate its expertise mitigates risk and provides the client with an added sense of security. Knowing that the technology with which a team works is truly in its wheelhouse ensures challenges will be addressed quickly and efficiently.
We achieved our status as an IBM Premier Business Partner by holding a number of IBM certifications in both technical and sales functions. These certifications are a clear demonstration of our team's dedication to continuous self-improvement, IBM, and, most importantly, our clients. As a whole, the IBM team has a total of 122 years of experience, averaging out to 13.6 years of experience per team member. That depth of knowledge is matched only by the breadth of capability of the 73 IBM certifications earned by Briteskies.
Listed below are the certifications the Briteskies IBM team has earned in order to bring the best solutions to our clients.
IBM Certified Application Developer—WebSphere Commerce V6.0, V7.0
This certification demonstrates an understanding of the WebSphere Commerce architecture and that the certificate holder can effectively use WCS tools to install and customize client projects.
IBM Certified Solution Designer—WebSphere MQ V7.0
The WebSphere MQ v7.0 Solution Designer demonstrates application connectivity and integration expertise, and provides WebSphere Commerce clients with direct access to a resource who can assist with the planning and building of system touch points. Building tightly integrated system connections ensures the utmost efficiency; manual processes are eliminated, transactions and order fulfillment occur faster and data is never lost and always accessible.
IBM Certified Solutions Developer—Web Services Development for WebSphere Application Server V7.0
Solution Developers who use IBM Rational Application Developer for WebSphere Software V7.5 and IBM WebSphere Application Server V7.0 are the target market for this intermediate certification. The developers that achieve this certification are often working with clients that use Java EE 5 and need help developing, deploying, testing, and publishing web services.
IBM Certified System Administrator—WebSphere Commerce V7.0, V6.0
This certification is intended for system administrators who already have extensive product knowledge and who perform everything from installs and configurations to migrations and maintenance of WebSphere Commerce V7.0 sites. Another intermediate level certification, this allows the system administrator to implement the following tasks and much more:
Installation and configuration of the product for both production and staging environments
Load data into the WebSphere Commerce database
Deploy and update customized code
When our own Mark Kucalaba earned this certification at this year's IBM WebSphere Smarter Commerce event, he said talked about the importance of earning certifications. "Briteskies can easily present me to prospective clients with the certifications that I have earned and the clients can feel confident in the quality of service that they will be receiving," Mark said.
IBM Commerce Solutions Selling/Order Mgmt Sales Professional v1
Another Mastery test, this certification allows an IBM professional to demonstrate his or her knowledge within areas such as the roles of IBM Sterling Configure Price Quote and the Sterling Order Management Solutions, and how these fit and work within the Smarter Commerce landscape.
IBM Commerce Solutions Supply Chain Management Sales Professional v1
This Mastery exam covers the high-level Transportation and Warehouse Management System drivers, benefits, and strategies.
IBM Coremetrics Technical Professional V1
This certification measures IBM Coremetrics knowledge regarding the ability to identify, manage and close sales opportunities. Coremetrics, now a part of IBM Enterprise Marketing Management, provides powerful web analytics and digital marketing optimization as part of IBM's Smarter Commerce initiative. Coremetrics allows IBM clients to make well-educated decisions on how to properly target their online audiences.
IBM Enterprise Marketing Management Solutions Sales Professional v1
This Mastery exam demonstrates an expertise in knowing and understanding the various marketing tools IBM offers its clients. Additionally, the bearer of this certificate has proven his or her ability to develop powerful marketing strategies for online retailers. The marketing management sales expert has proven skills in the following areas:
IBM's approach to analytics and automation
eCommerce marketing trends
IBM's Enterprise Suite, including Unica's Campaign, Detect, Predictive Insight, Leads, Marketing Operations and Net Insight
Enterprise Marketing Management Software as a Service offerings, and
various sales resources
IBM WebSphere Solution Sales Professional v2, v5
The Solution Sales Professional Mastery test is used to validate an IBM expert's knowledge in a non-technical capacity. Tests such as these are incredibly beneficial to WebSphere Commerce clients in that they demonstrate our Briteskies' IBMers' understanding of the product line, which solutions would be best suited for an organization and ultimately how IBM clients can capitalize on their investments to the fullest.
Our team has worked diligently to establish not only solid eCommerce solutions for our clients, but longstanding relationships as well. If you would like to learn more about IBM WebSphere Commerce, our team or Briteskies, simply contact us.