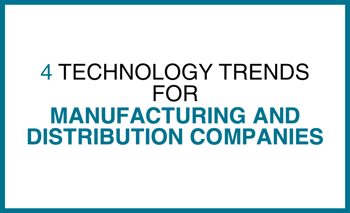 Did you know that 70% of business-to-business revenues come from customers using digital channels? What is your company doing to accomodate that audience?
Our team will be at the upcoming Ceramics Expo to discuss how technology can provide a competitve advantage through changes to your online site, data management, and integration between your online site and back office systems. Be sure to visit our team at booth 922 and check out this blog for more information, and read on to learn how technology trends can impact your manufacturing and distribution operation.
Today's manufacturing and distribution companies face a variety of challenges: pressure to increase productivity, lower operating costs, manage ever-changing data needs, and integrate emerging technologies. These days, technology advances are driving growth in the manufacturing and distribution industry. With so many options, it can be difficult to decide which technology trend will take hold. Below we review four key technology trends facing manufacturing and distribution companies today; which are you prepared to address?
Technology Innovations
As new technologies emerge, manufacturers will either adopt them, or they will be forced to use them to survive.
One such advance that is getting a lot of attention these days is The Internet of Things (IoT). IoT enables devices to connect and communicate with each other without depending fully on people. At a recent Briteskies User Group, Greg Smith, an Oracle Distinguished Sales Consultant, walked participants through an example of how this technology works when using JD Edwards EnterpriseOne IoT Orchestrator.
As Greg shared, IoT is all about automating those things that companies have previously done in a manual, labor-intensive, error-prone process in the past. The Internet of Things Orchestrator allows business users to collect raw data from sensors or devices in the field or on equipment and feed that data into EnterpriseOne. Using Orchestrator, users can then set up commands to automate transactions between applications and EnterpriseOne. Such innovations can help manufacturing companies become more proactive as they address typical challenges around inventory availability, asset tracking, ability to reduce downtime resulting from machine failures etc., and the pressure to respond quicker to demand.
B2B eCommerce Growth
"B2B buyers are now expecting B2C-like customer experiences online, and they're growing increasingly impatient with B2B sellers that don't provide it," writes Forrester.
B2B companies not willing to grow their digital footprint risk losing market share to their competitors.
It can be tricky for a manufacturer entering into the eCommerce market as they contemplate the impact such a move would have on their resellers. However if done in a thoughtful manner – as outlined in this article by Bill Onion with Briteskies - "Leverage Ecommerce to Eliminate Channel Conflict," the benefits of a manufacturer creating sites for their resellers can generate both revenue and demand for both parties. Even though it's an investment of resources, there's much to be gained for the manufacturer in addition to increased revenue and an entirely new sales channel.
ERP Upgrades
Stewart Florsheim in Manufacturing and Business Technology Magazine shares that "Never before has there been a greater opportunity for innovative manufacturers to quickly and economically become part of the connected economy, driving their company's growth and exceeding their customers' expectations."
As an example, he references the Scott Fetzer Electrical Group. They wanted to track service requests and, with the information on-hand, build better products. According to Florsheim, the company knew its first step would have to be upgrading its back-office systems, including ERP, because the right ERP was needed so the company could achieve the integration it needed to join the connected economy.
Integration
Order management is a crucial aspect of B2B brick-and-mortar operations, and that remains true online as well. Automating manual sales functions not only frees up time for customer service, but it eliminates the possibility of human error throughout the process. Getting your back office and eCommerce site to communicate with each other will significantly improve sales interactions for your company. 40% of B2B buyers identified back-end integration with financing, accounting, order management systems (OMS), or enterprise resource planning (ERP) systems as a key feature. This type of integration allows the order management process to become seamless, and data and order information to be easily accessible.
The B2B market continues to grow with an estimated $1.1 trillion in sales being done on eCommerce sites. Are you prepared? Briteskies has extensive experience in implementing eCommerce sites for manufacturing and distribution organizations and can help you get your share.
Our team has executed complex Magento and IBM WebSphere Commerce solutions as well as integrations to many different ERPs, including but not limited to: Oracle/JD Edwards (both EnterpriseOne and World), Oracle E-Business Suite (EBS), SAP (R3 and ECC6), and IBM i.
Visit us during the Ceramics Expo in Booth 922 to learn more.