Recently, one of our Magento developers was looking to change the settings to a module in Magento 2. Using his knowledge of Magento 1, he opened up a category in the Magento admin only to find that the module he was looking for wasn't there.
Magento 2 introduces a reorganized admin panel that includes some new categories as well, including:
Stores, which contains Settings, Attributes, Taxes, Currency, and Other Settings
Marketing, which houses Promotions, Communications, Private Sales, SEO & Search, and User Content
While this new organizational structure is fairly intuitive and makes a lot of sense, if you're a Magento 1 user who has moved to Magento 2 work, then finding what you're looking for might be a bit of a challenge.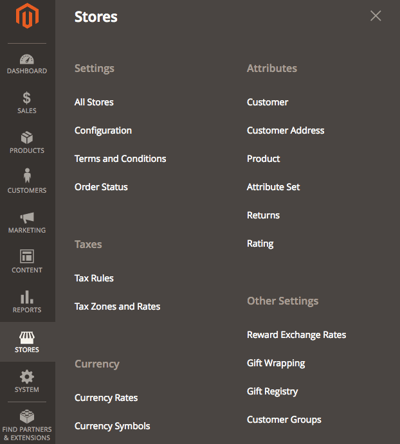 Here's a look at some of the new categories in Magento 2, as well as where to find some of those relocated, frequently-accessed categories from Magento 1.
Attributes
If you are looking for any sort of Attribute in M2, you will need to check under the new Stores category. Whereas Customer Attributes were previously under Customers in M1, Product Attributes were under Products, and Returns and Ratings were under Sales, all Attributes are now organized together under Stores.
Configuration
If you needed to access anything for setup in M1, you went to System>Configuration to find what you were looking for. But Configuration is another category that has moved to the new Stores section. You can now find Configuration under Stores>Settings>Configuration.
Transactional Emails
In M1, there was a page called Transactional Emails under Systems. Here, you could update and edit any email sent by your site, including order confirmation, order shipment, forgotten password, and more. In M2, however, emails can be found under the new Marketing category.
By following Marketing>Communications>Email Templates, you will find the formerly-named Transactional Emails. This new category also includes Newsletter settings, which were previously separate from emails in M1.
One notable addition to the Marketing category is SEO & Search, which was under Products in M1.
Rule-Based Product Relations
This category, found under Catalog in M1, is now called Related Products and can be found under Marketing in M2. Since this function uses the same logic as other promotion rules, they are all grouped together under the Promotions category in Marketing.
For Developers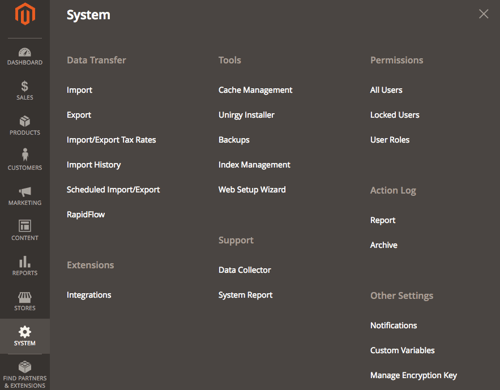 One thing to keep in mind with these changes is that now when a module or custom work is created, developers need to rethink where that module will live in the admin panel. The Products and Customers categories were the two with the most changes, with most of their categories relocated to new sections. So, something that may have lived in Products in M1 might belong in Marketing or Stores in M2. Unirgy is a great example of these changes in action.
In M1, the Unirgy extension URapidFlow could be found under System >RapidFlow. In M2, RapidFlow can still be found under System, but it is now separated into a further category, Data Transfer, which didn't exist in M1.
Do you need assistance with a Magento 2 project? Contact our team of certified Magento 2 developers.