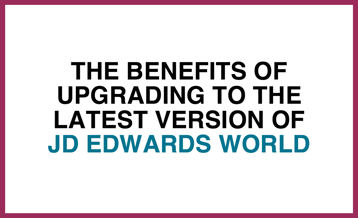 For companies that are still running legacy versions of JD Edwards World (A7.3, A8.1, A9.1), there are three general upgrade options available:
Upgrade World to the latest version of the software
Migrate from World to JD Edwards EnterpriseOne
Implement an entirely new ERP system
Each of these options has their benefits and drawbacks depending on the needs and goals of the organization, but let's take a look at the benefits of upgrading your legacy JDE World system to the latest World offering.
Time
Upgrading to the latest version of JDE World is by far the least time-consuming of the available choices. Because there are no changes to the user interface or the underlying technology, there is no need to retrain the user community, and all the external systems continue to work as they currently do.
This option also contributes the least amount of distractions to the organization during the upgrade, allowing the organization to focus on other business goals. This ability to upgrade without grinding other business operations to a halt helps contribute to the short duration of the upgrade project.
Money
This option has the lowest cost of upgrade options for JDE World. Upgrading the World software is free in and of itself (assuming you are current with Oracle Maintenance), and the minimal training and time requirements help keep costs down as well.
Features
A JDE World upgrade brings with it a host of new features and functionalities. These new features and functions that are delivered to the user community will benefit your organization with their better technology and enhanced functionality.
These new features mean that there is a good chance that most customizations can be reduced or eliminated, making the system easier to manage and upgrade in the future. Additionally, all existing custom reports, RPG-based programs, and third-party software can continue to function with minimal changes.
Perhaps most importantly, a World upgrade brings the system back on Premier Support for those organizations that have phased out of it, and the existing technical team maintains the ability to manage and support the system.
So, is a JD Edwards World upgrade right for you? Work with your JD Edwards Partner to decide if this upgrade option is optimal for your organization.