Why Upgrade?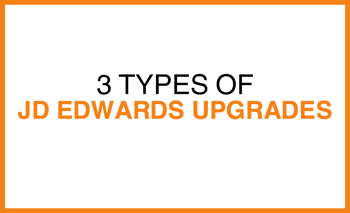 When it comes to your JD Edwards ERP system, it can be hard to justify an upgrade when everything is seemingly working fine. There are many benefits to upgrading that go beyond simply performance, and even with that, there are three options when it comes to upgrading.
Depending on the needs of your company, choosing between a technical, functional, or transformational upgrade can have a huge impact on your JDE system.
Types of Upgrades
Technical
A technical upgrade, sometimes referred to as a "like-for-like" upgrade, keeps the software on the same platform and only implements changes to business processes that are required by the software. They involve migrating to and from the same infrastructure platform, and analysis and implementation for RICE elements, among other things.
Technical upgrades are the fastest and least costly upgrades that you can complete on your JD Edwards platform. In fact, according to Oracle and IBM, many JDE clients have completed a technical upgrade to the latest release in 100 days or less.
For JD Edwards customers, a technical upgrade would consist of upgrading to a new version of the software in order to take advantage of enhanced features and functionalities. For example, functional enhancements achieved in a technical upgrade would improve the capabilities of the existing applications and improve the overall capabilities of the platform.
Another benefit of a technical upgrade is that all existing custom reports, programs, and third-party software interfaces can continue to function with minimal changes.
Perhaps most importantly, a technical upgrade would bring an outdated system back on Premier Support, giving the existing technical team the ability to manage and support the system.
Functional
Functional upgrades add a layer of complexity to a technical upgrade by implementing new business processes and functionality that the company did not use before the upgrade; as an example, implementing auto cash application when you previously only applied cash manually.
A functional upgrade includes all of the same aspects of a technical upgrade, with the addition of configuration and process design of new functionality, and some change management impact, among other things.
The new applications found in a functional upgrade can supply your company a competitive advantage. The latest versions of JDE have new and enhanced features and applications that are not available in older versions.
These applications can help eliminate manual or custom-coded processes and drive your business forward. As new features are added to the base JDE offering, they frequently replace commonly custom-coded processes.
Transformational
A Transformational upgrade is a mix of functional and technical upgrades along with extensive business process modeling and technical design activities, new modules being implemented, increased complexity and, occasionally, it may seem to be a form of re-implementation.
Transformational upgrades are the most complicated and can even involve a re-platform and a re-engineering of business processes. A World to EntepriseOne migration, for example, is a transformational upgrade. A transformational upgrade such as that can modernize your system and provide all of the benefits of a re-platform without losing core system knowledge.
A transformational World to EnterpriseOne upgrade provides a new, modern, browser-based system and elegant new User Interface, as well as enhanced features and functions within the software. It also features natively delivered mobile capabilities and new reporting tools.
With all of these beneficial changes comes the need to train for them. Training is often a lengthy process for a system migration, but since system constraints, underlying configurations, order activity rules, and processing options for most EnterpriseOne modules are nearly identical to those in World, users do not need to completely relearn how the system works. User training is instead limited to the new user interface.
What Should You Do Next?
When making the case for a JD Edwards upgrade, be sure to weigh the pros and cons of each of these types of upgrades to determine what makes the most sense for your organization. No upgrade project exists in a vacuum, so be sure to consider all of your company's variables when deciding what is best for your JD Edwards environment.
For any JD Edwards upgrade it is best to turn to a team of experts. If you have questions about what's best for your JDE environment, contact our certified JD Edwards team.