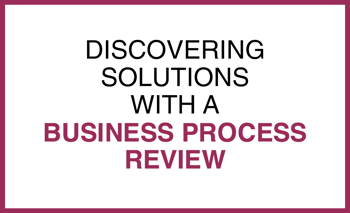 In a Business Process Review, we help your organization take a look at current software and technologies to figure out how those tools can be leveraged more effectively. Sometimes, a BPR can highlight an existing solution that your team wasn't aware of. Having a fresh set of eyes take a look at your software configuration can reveal a beneficial technology or business process change, like a recent BPR our team completed for a client.
This client is an auto parts manufacturer and distributor who was having trouble keeping track of stock movements around the warehouse. Much of the confusion was due to their process of backflushing work orders.
Typically, in manufacturing, the warehouse issues everything to the bill of material when the components are pulled from stock and staged. In a backflush, however, the materials aren't issued until the order is complete and the person completing it records it in the system. This means the materials are being physically moved around the shop floor without their movements being accounted for in the system. This makes it much harder to keep track of raw material and component inventories – both quantities on hand and their physical location in the warehouse.
In this situation, it was impossible to get an accurate inventory for raw materials, components, or finished goods until the worker finished the production run and backflushed their work orders. Until that backflush happened, another person trying to locate a completed order or any of the materials needed to create that item didn't know what materials were in process and where. As a high-volume shop with quick-moving items, this was a huge issue.
This lack of visibility into the moving stock on the front end and completed projects on the back end was one of the issues that our team observed during the client's BPR. What our team also noticed, however, was that the solution to this problem already existed in the client's arsenal.
Our team recommended that the client use the RF devices they already used for recording transfers to track work orders and materials. Floor personnel could then track an item's movements from the stock location to assembly floor, so that others could easily find said item. Just as the RF device is used to track an item from receiving to warehouse, it could now be used to track the item from the warehouse to assembly.
Because this solution already existed for the client without the need for new tools or software, the biggest challenge with this project will be shop floor discipline. Floor personnel will have to get used to tracking materials throughout the process, as opposed to accounting for everything in the backflush at the end of a shift. While any change in a business process will typically receive some pushback, this change will be well worth it.
This solution is a great example of how a Business Process Review can reveal helpful solutions within your organization. The issue was identified during the BPR as the number one change needed in production, and the provided solution will result in a high impact change with low to medium effort.
Could your organization's software or ERP use a review? Contact our team to learn more about our Business Process Review methodology.