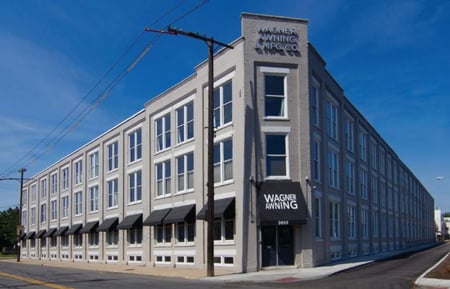 We moved! Again!
You can now find Briteskies at:
2658 Scranton Road, Suite 3
Cleveland, Ohio 44113
You may remember our last big move announcement at the end of 2016. We spent a great year and a half at the Fairmont Creamery building, but our growing team was soon crowding the space. So, we worked with the Fairmont management team and they secured us a new office in their nearby Wagner Awning building.
Originally built in 1895, the Wagner Awning building was restored in 2016 and now houses residential and office spaces. The restoration project resulted in an historic preservation that received local and Ohio state awards for the care and stewardship put into reconceptualizing the old sewing factory. Original features like maple floors, timber beams, and large window openings were preserved and add character to the current space.
One thing our team is most excited about with this new space is the ability to get the whole team back together again. At Fairmont Creamery, our team was split between two different spaces. Here at Wagner Awning, we back to one larger space that facilitates communication and cooperation among our team members.
More space means more room for snacks and beer, so we'd love to have you visit our new location!