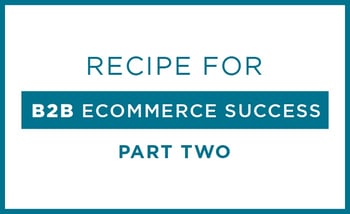 So, you're considering implementing a B2B eCommerce site. It can be intimidating for sure and there are a lot of moving parts, but if you plan the project well it can be a straightforward process. While the project may not be a piece of cake, we've found that breaking it down into a few crucial ingredients is a great way to whip up a successful B2B eCommerce site. Here is the next installment of our 13 ingredients for B2B eCommerce success. (Check out Part One here)
Define Success Metrics
You can follow a recipe exactly, but if you don't have the oven set to the right temperature then your dessert won't be edible. Just as preheating your oven is crucial to a finished baked good, how can you ensure that your B2B eCommerce site will come out well? How will you know if the finished product was worth all of this time and effort? First, you need to define your success metrics.
More often than not, your success metrics will be solid numbers and statistics that you can measure and identify once your site is live.
How to Determine Success Metrics
Success metrics (we're talking numbers) need to be based on the "why" behind your implementation. If your site's purpose is to increase revenue or decrease costs, then your success metrics will be measured in dollars. If customer experience is the goal, then maybe your metrics are something like fewer calls into a call center, or a shorter wait time to speak with a CSR.
One big goal we look at for B2B projects is rate of adoption. But how do you determine what those metrics are? Things like average order value, customer lifetime value, and the ability to cross- and upsell customers will help you determine your success metrics there.
Don't forget to look ahead when determining your success metrics. Sure, the first few quarters will be important, but don't be afraid to set success metrics for one, three, or even five years out.
Create a Marketing Strategy
Before we get too far into the development of your new site, it's important to understand how you're going to attract customers to it. Any good recipe has a little bit of sugar, and your site will need something sweet to entice current and future buyers.
The good news is that establishing a solid platform to drive traffic to your B2B site is the first step in your marketing strategy. With your new site underway, your marketing efforts are off to a great start.
Much like the rest of this project, effective B2B marketing leans on tactics from B2C. We follow four components of B2B eCommerce marketing: driving traffic, making conversions, increasing the average order value, and developing customer lifetime value.
Driving Traffic
Driving traffic is all about getting people to a site using SEO, SEM, and inbound marketing. While site views in general are important, it is beneficial to consider the origin of each visit as well. Attracting the right kind of traffic is just as important as the volume of visitors.
A good way to get the right eyes on your site is to define your audience. Having a clearly defined target audience will help guide what forms of content and channels your team will utilize.
Conversion
The key to high conversion rates is a user experience that is catered to your target audience. By providing an elegant user experience, whether through incentives to buy or implementing an efficient purchasing process, customers must feel that they can trust a site and relate to the experience, which is the core of interactive marketing.
Average Order Value
Increasing the average order value depends on encouraging your customer to buy more. Whether it's suggesting complementary items, cross-selling, upselling, merchandising, or keeping track of customer trends, increasing the AOV comes down to outlining and executing a strategy.
Customer Lifetime Value
If a customer trusted you enough to give you their money once, how do you keep them coming back? Similarly to AOV, customer lifetime value is increased through strategy and creatively building on already established brand loyalty. Reward programs, email campaigns, members-only sales, and impactful (but not annoying) communication are all effective ways of building on customer loyalty.
There's more to come! Stay tuned for part three.