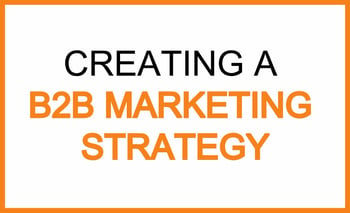 In this day and age, a digital marketing strategy is crucial for B2B organizations. But where should you begin if you don't yet have a strategy in place? This infographic from Smart Insights features seven steps for creating an effective B2B marketing strategy, and we've highlight three of our favorite steps below.
Define Your Audience
One of the first steps for developing your B2B digital marketing strategy is to define your audience. Having a clearly defined target audience will help guide what forms of content, topics, and channels your team will utilize. The best way to define your audience is to create personas.
Personas are generalized representations of your ideal customers and help make sure that all decisions are made with your end user in mind. Defining who your customers are, what information they want from your organization, and how they want to obtain that information will help you figure out how to market to those people.
Leverage Content Marketing
Leveraging content marketing helps establish your organization as a trusted knowledge source throughout the customer journey. Publishing consistent and informative blogs that both identify your audience's pain points and provide solutions will instill trust in your readers.
One of the most important parts of blogging is to create content for your customers, not for you. This is where your established personas come into play. Content should be created in the form most likely to attract your target clients and should have a clear message.
When it comes to quality versus quantity for you blog, favor quality. Fewer, higher-quality blog posts are more valuable than a lot of low-quality content. When creating that quality content, make sure it is engaging, entertaining, and timely.
Share Content on Social Media
Once you have all of this quality content, be sure to share it via social media. There are so many social media platforms out there, but you don't have to use them all; find where your customer base is interacting online and master those platforms. LinkedIn is especially impactful for B2B social media marketing.
Social media is a great place to compare your presence to your competitors'. Not only can you see what content your competitors are sharing, you can get real time insights into their engagement levels. Keeping an eye on your competitors can give you an edge in the market by analyzing what your competitor is missing and how you can improve your organization's social media presence.
Are you ready to get started on your B2B social media strategy? Contact our team.