These days, it seems like everyone is talking about The Cloud. In hushed, reverent voices, not unlike the aliens in Toy Story as they look to the sky and point to their master, The Claw, tech experts and business owners alike talk about The Cloud as if it is the end-all-be-all solution for their company.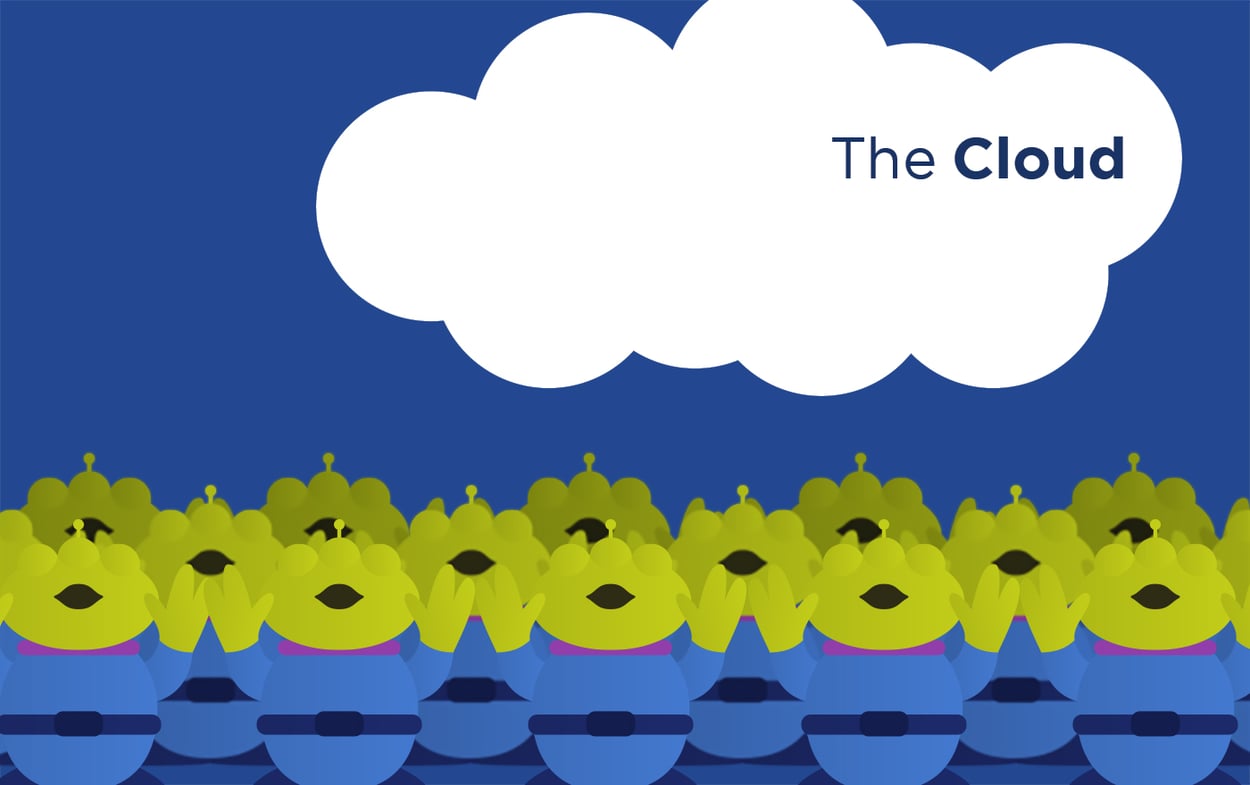 Whether for storage, hosting, or altogether unclear purposes, everyone feels like they need The Cloud. In fact, vague cloud announcements have been so prevalent recently that Google used the concept for their April Fools joke this year.
But what are people actually talking about when they talk about The Cloud? To answer that question and demystify cloud environments, we first need to address these questions about the implementation at hand: Where is the hardware hosted, how is the software licensed, and who is responsible for supporting it?
Where is the Hardware Hosted?
When it comes to hosting, you have two options: internal or third party.
Internal: With internal hosting, your organization owns and manages every aspect of the hardware and its environment.
Third Party: With third party hosting, your organization either owns or rents the hardware that is then hosted in a cloud environment.

Own vs Rent: As far as purchasing actual hardware is concerned, you can either purchase your own dedicated hardware, or rent from a myriad of options. With renting, you can either have your own piece of hardware to yourself, or pay for a piece of hardware that is shared amongst multiple clients. The shared option is used when the provider has a piece of hardware with a lot of power and clients who only need a fraction of the available functionality.
Cloud Environment: In a cloud environment, the third party provider has a large virtualized hardware environment that they rent out slice by slice to organizations. This shared-server environment gives you the opportunity to grow your environment and storage, but at a cost.
Choosing how your hardware will be hosted, either internally or through a third party, comes down to preference and ability of the organization. Can your company's members manage the hardware? Do you have the bandwidth to accommodate everything? If not, third party hosting may be the right choice, as they can typically manage the hardware better than their customer, as well as provide better backups and more bandwidth.
How is the Software Licensed?
Now that you have your hardware hosting figured out, how are you licensing your software? This decision leads to three options: On Premise, Rent/SaaS, and Lease or Finance.
On Premise: With On Premise licensing, you buy the software up front and have full ownership of it, much like selecting a car at a dealership, writing a check for the full amount, and driving off with your purchase with no further obligations to the dealership.
Rent/SaaS: The Rent or Software as a Service model of licensing means that you pay as you go for access to the software, but you never own it. This is similar to renting a car; you have access to all of its functionality but no ownership, so you must continue to pay in order to continue using it.
Lease or Finance: Much like On Premise, Leasing or Financing your software license has an end goal of software ownership. In this situation, however, you spread out your payments and buy over time, like financing a new car so that you pay in increments until you have paid it off and own the vehicle.
Who is Responsible for Supporting the Systems and Applications?
Once the software system is operational, the next decision to make is who will be responsible for supporting the day-to-day operations. Similar to hardware hosting and software licensing, there are many options available:
Internally supported: In this model, the company owns the hardware and software and is 100% responsible for all support, bug fixes, upgrades, etc.
Vendor Supported: This model is most common in a SaaS software offering. In this model, the vendor is 100% responsible for supporting the hardware, software, bug fixes, and upgrades.
Hardware/OS Support: In this options, aka "lights on," the vendor/hosting provider will support the hardware and operating system, but may not provide support services for the application. In this case, the company (or a different third party) will provide support for the application.
Mixed Mode: This is basically every other option available, and we've seen too many combinations to try to detail them all.
There are advantages and disadvantages to all of the above hosting, licensing and support combinations. While you may feel that having access to The Cloud is necessary to keep your business current, the most important thing is to choose the option that works best for your organization.
Stay tuned for an upcoming article detailing the specifics of each option to help you decide which combination works best for you. Can't wait until then? Contact us and we will be happy to answer your questions.