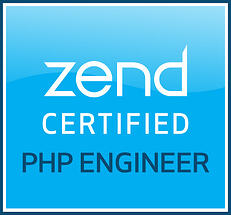 Congratulations to Derrik Nyomo on being the most recent Briteskies team member to achieve his Zend PHP Certification! Derrik, a Magento Developer and Network Administrator at Briteskies, adds this accomplishment to his three Magento Certifications: CD, CD+ and Front End Developer.
"I had all of my Magento certifications already and this was the next step," Derrik said.
To prepare for the certification test, Derrik spent three months studying and taking practice tests using uCertify. The site provided a pre-assessment test, online tutorials, sample questions, and interactive quizzes, and tracked his progress.
This certification was important for Derrik because it applies to any PHP project that the Briteskies team may encounter, not just those that are Magento related. It also validates the skills that Derrik has been honing for years.
"I've been programming in PHP for almost four years now, but the certification shows the client that we're not just certified in Magento, but the language Magento is built in. It tells our clients that we meet the highest standards."
Derrik joins fellow developer Jason Young in the ranks of PHP Certified Developers at Briteskies.
As with any certification achievement, the Briteskies ideal "learn, stretch and grow," was at the forefront of Derrik's preparation process. Briteskies always invests in the further education of its team members so as to add value to their own skill set and the development team as a whole.
Congratulations again, Derrik, and keep up the good work!