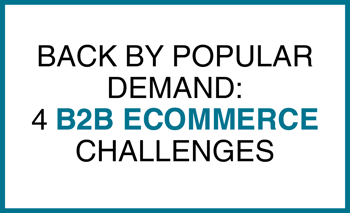 Nearly three years ago, we published a series of articles about the four major challenges facing B2B eCommerce. Many aspects of B2B eCommerce and technology have changed since those articles were originally published, but the challenges they address have not.
Read on for a look at what those four challenges are and our suggestions for tackling them.
Creating Support
A B2B eCommerce project can be one of the most challenging initiatives your organization takes on. It requires help from team members who have additional daily responsibilities, and it introduces an entirely new sales channel to your organization, changing the dynamic of your business model. In order for your B2B eCommerce platform to meet its potential, you need to first create support within your organization.
Follow these three steps to create support among your team members:
Define the strategy
Engage the sales team
Crown your champion
Managing Catalog Content
An eCommerce site requires an incredible amount of data in order to provide customers with the information they need to make a sale. From short and extended product descriptions and item dimensions and attributes, to related items and high-quality product images, that's a lot of content to keep organized. To prevent an immediate blowup as you're implementing your B2B eCommerce site, first collect and organize all of your necessary data.
Integration
A B2B eCommerce and ERP integration can be a daunting task. In fact, it can be so intimidating for some companies that they forego it all together and instead duplicate the ERP data and business logic into the eCommerce system. Keeping the two systems decoupled like this can lead to a whole host of problems, and integrating your systems is almost always the better solution. We've outlined our golden rules of integration to make the processes easier.
Sales Team Management
Any B2B organization implementing an eCommerce site and forgets their sales personnel is asking for trouble. It's common for sales staff to view the eCommerce site as a replacement for all of their hard work, and they are likely to be resistant to this new tool. But by engaging your sales team, getting their input, and defining the benefits of the new system, you can move forward as a united front.
Are you interested in implementing a B2B eCommerce site? Contact our experienced team to get started.