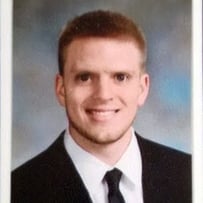 This summer, Case Western Reserve University Biomedical Engineering student Adam Boe joined the Briteskies team as a Magento intern. After seeing Adam's work as the Webmaster for Phi Delta Theta fraternity, Eta Chapter, Gian Genovesi, the fraternity's chapter advisor and Briteskies Magento Delivery Director, spoke with Adam about applying for a Briteskies internship in order to cultivate his web development skills. Lucky for us, Adam (AKA Pickles) did apply and joined the team for the summer.
Here's what Adam had to say about his Briteskies experience.
What were your initial impressions about Briteskies and the intern position?
Briteskies was a lot closer and more personal than I was expecting. It was more than just a place to clock in and grind away at mundane tasks; it was a place to come together and accomplish goals together as a cohesive team. The internship was also more of a learning position than a task-oriented one, therefore, was a great opportunity to expand my web development abilities.
What was your role while interning? What sort of projects did you work on?
Initially, I worked on learning the Magento framework, building my own simple modules and exploring how Briteskies own modules function. I also explored various modern web technologies, such as AJAX, CSS preprocessing, and virtual machine server hosting. I also moved into exploring the currently-in-development Magento 2, as well as a scattering of client work, including module installation and template modification.
Did you have a mentor during your internship?
Although not an explicit mentor, Greg Crane, Magento Developer, was my go-to for questions as we both attempted to learn the new practices of Magento 2. When I managed to really break things, the buck stopped with Lead Magento Developer Derrik Nyomo who was always able to fix everyone's technical problems.
What was your favorite part of interning with Briteskies?
My favorite part of Briteskies was the interactions with my co-workers. Stand-up meetings were always a highlight of the day, as well as the random small talk spattered throughout the day.
What was the most challenging aspect of your time here?
Initially figuring out the Magento Framework. Everything is based on both explicit and implicit relationships, so figuring out how everything connects was a challenge. Then having to switch to Magento 2 and learning the new way of doing things, via direct injection, further confused things in my head.
What is your final impression of Briteskies and the team
Briteskies is much more than a conglomeration of co-workers; they are a family. Everyone is always willing to help one another and push each other.
Thanks for all of your hard work, Adam, and good luck with your last semester!